The residue obtained in the process of milling rice to produce rice, is the layer of chalk sticking to the rice grain after peeling. Rice bran is an ingredient with a very low cost but very high value for use.
    Rice bran is an ingredient with a very low cost but very high value for use. In rice bran contains nutrients that are beneficial to the skin. Specifically, according to scientific analysis, for every 100g of rice bran will contain:
22g Lipid: In rice lipid contains essential oil Gamma Oryzanol, 4 times more effective than Vitamin E: helps to fight aging in tissues especially skin better.
The remaining 26g are trace elements such as vitamins E, B6, B1, minerals …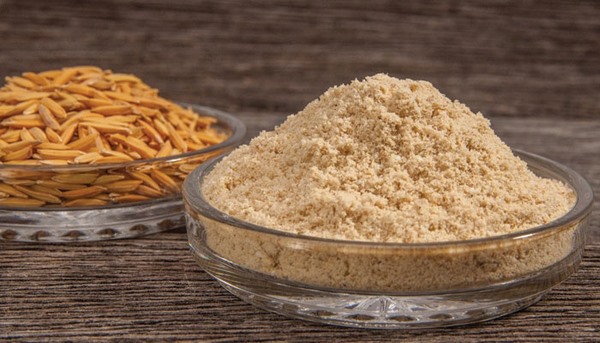 2.THE PROCESS TO DO RICE BRAN FOR BEAUTY?
   Stage 1: When the rice is put into the machine, it will produce coarse rice, bran and rice husks. Bran at this stage is called husk bran, this bran is pale yellow to dark, the bran is not smooth. This type of rice bran is used as food for livestock and poultry (many places for profit, selling this type of bran for beauty, are susceptible to allergies because of this type of bran, because the bran contains a lot of dirt, husks and many other impurities on the husk)
   Stage 2: The raw rice grain in Stage 1 is put into the rice polishing machine to make a beautiful, shiny rice grain that you often use every day, and at the same time produce a little rice bran, this rice bran is called a rice bran. . This rice bran is milky white, very little dirt and impurities but still has many plates.
   Stage 3: Rice bran in Stage 2 is put into a tray and put in the dryer at a temperature above 100 degree, then the rice bran will be passed through a sieve of 2-3 times to produce pure rice bran supplying to the market for customers to beautify, without adding any chemicals or preservatives.
   Nara Vina Trading Co.,Ltd have invested capital in big rice factory in Can Tho Provinde – a leading rice factory supplying rice and relative produce to over the world. We make sure can give you best quality with best price.
Contact to me to make order right now.
| | |
| --- | --- |
| Company Name | NARA VINA TRADING COMPANY LIMITED |
| Address | 5th New City Group Building, No. 216 – 218 13 National Road, Hiep Binh Chanh Ward, Thu Duc District, Ho Chi Minh City |
| Homephone | (+84) 28 3535 1321; (+84) 28 3535 1322 |
| Hotline | +84865003723(Whatsapp/ Line/ Viber/ Wechat) |
| Email | narasunny24@gmail.com |
| Website | www.nara-land.com |